Seniors at St. Paul's PACE Senior Center Enjoy Ice Cream Sundaes and a Visit from Local Friendly Faces
Jan 28, 2013
It's always a good time for ice cream! On the morning of January 23, 2013, representatives of Annex Brands had the exciting opportunity to serve local seniors ice cream at St. Paul's Program of All-Inclusive Care for the Elderly (PACE) in Chula Vista. St. Paul's LUV volunteers donated the ice cream and toppings for the event, and several Annex Brands employees, the Fab Five of Annex Brands, had the pleasure of creating beautiful ice cream sundaes.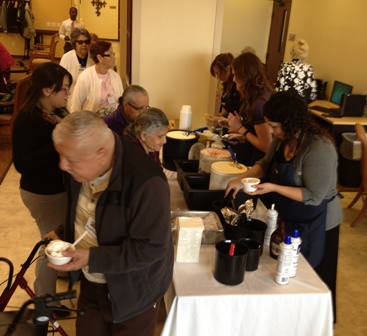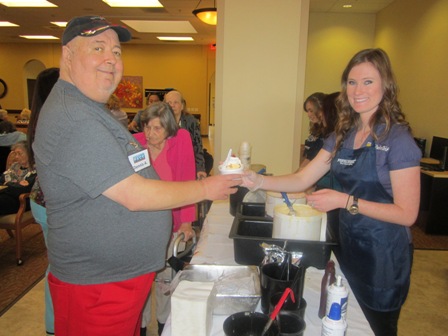 This was the first ice cream social at the new Chula Vista center, and it was a huge success. The seniors had their choice of three different flavors of ice cream, along with all the fixings including whipped cream, fruit, nuts, and of course, maraschino cherries. After the first round of ice cream, the seniors weren't ready for the fun to end. Several went back for seconds and thirds, but only after assuring St. Paul's staff members they would also eat their lunch. There were no food fights, but the seniors, St. Paul's staff, and Fab Five of Annex Brands all had a great time getting to know each other.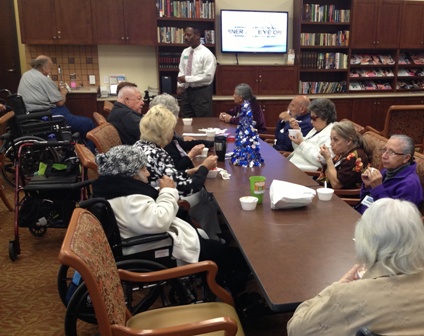 St. Paul's PACE Senior Centers bring much needed services to local San Diego seniors. As they age, many seniors prefer to stay in their own homes rather than move into a nursing home, but, due to health issues, they can't stay at home without the help of caregivers. Through the PACE program, older adults have access to medical care, a day center, home care services and transportation, making it possible for participating seniors to continue living in their own homes. The center the Annex Brands Fab Five served at is St. Paul's new center in Chula Vista. Opening the Chula Vista center allowed St. Paul's to triple their service area, and they are now able to serve seniors in San Diego's East County and South County. Located at 630 L Street in Chula Vista, the St. Paul's PACE Chula Vista features a beautiful new day center, dining area, medical clinic, physical and occupational therapy room, and more. Visit the St. Paul's PACE website for more information about the senior center and for volunteer opportunities.